It's on!
We have built a digital learning module introducing matters about the climate crisis and some of its environmental and societal impacts. We believe it is relevant for a broad group of learners who want to increase their knowledge on the topic.
The module is called Climate Awareness and it is now online, available for you to try. Hope it will provide you with new insights and perspectives on the climate crisis.
A huge thanks to our partner Area9 Lyceum for providing their adaptive learning platform Area9 Rhapsode and support throughout the process. Also, thanks to everyone supporting the development of the learning experience with their thorough reviews and feedback.
Here's a tiny preview of the platform interface and the contents of the module: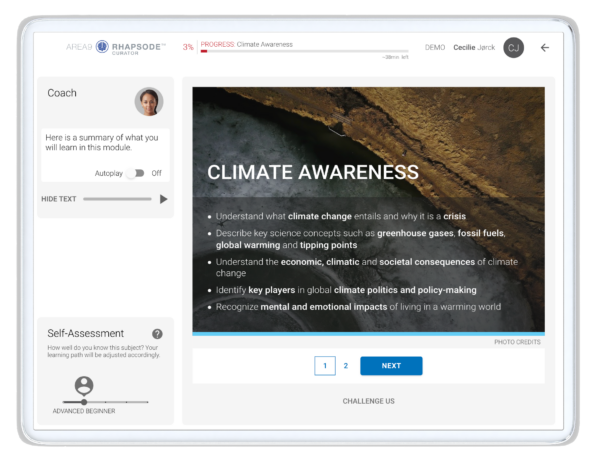 ACCESS THE MODULE THROUGH AREA9 LYCEUM'S WEBSITE HERE.
FEEL FREE TO SHARE. AND DON'T HESITATE TO REACH OUT WITH FEEDBACK OR RELEVANT/RELATED MATTERS TO DISCUSS. INFO@CENTERFORNEWMEANING.COM
CFNM | January 25, 2023